Public Aid Braces in Colorado
Medicaid Orthodontist in Colorado
As an approved Medicaid Orthodontist in Colorado, Orthodontic Experts constantly get asked about Medicaid (Health First Colorado, Public Aid) and CHP+ (Child Health Plan Plus) orthodontic coverage for braces in the state of Colorado. We have a lot of experience when it comes to working with Medicaid in Colorado and can answer all of you questions on the topic.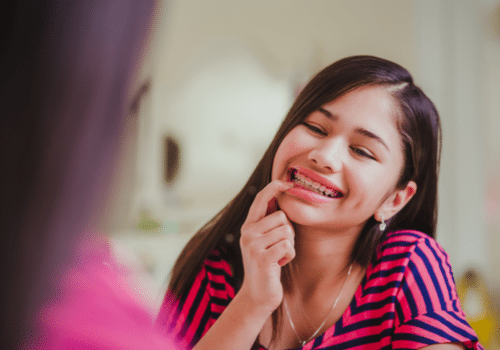 Who can get braces through Medicaid (CHIP+) in Colorado?
In Colorado, Medicaid only covers orthodontic treatment (braces) for children and teenagers under the age 21. So if you are an adult on Medicaid and want orthodontic treatment such as braces or Invisalign®, Medicaid insurance will not help with the costs and you'll need to pay out of pocket or with a private insurance. We also have very flexible payment plans available through our office and offer third party financing such as CareCredit.
For children under 21, however, Medicaid will pay for the costs of braces in full, if the Medicaid dental examiner determines that the need for braces is medically necessary and the child gets approved for orthodontic treatment.
What is a medical necessity for braces?
In order for orthodontic treatment to be considered medically necessary, the case should include the treatment of bite problems or other severe orthodontic issues. Also, treatment may be covered when provided in conjunction with other medical issue(s), such as a syndrome, cranifacial deformity, trauma, speech problems, etc. For example, a severe handicapping bite which impairs a patient's physical or emotional health may require medically necessary orthodontic treatment.
To determine medical necessity, Medicaid dental examiner will review your child's X-rays, photographs and other dental records. In the state of Colorado, you can have your child evaluated for orthodontic treatment once per year. If they get denied for braces in one year, you can try again the next year. Typically Medicaid will allow up to three total approval attempts. If your child gets denied for treatment before he/she has all adult teeth, it may be a good idea to wait a year and try again. Also, if your child gets denied for orthodontic treatment, you have a right to file an appeal with the Medicaid to have the case re-evaluated.
What is the process of Medicaid pre-approval for braces in Colorado?
To start orthodontic pre-approval process, you need to schedule a consultation at our office first. There's no out of pocket cost for to for the consultation and all necessary records. At the consultation appointment, we will obtain photos and X-rays required by Medicaid for pre-approval. One of our orthodontists will also make a thorough evaluation of your child's bite and other orthodontic problems and will fill out all necessary forms and reports needed for Medicaid office to review your case. We send this in to Medicaid administrators for their review and approval decision. They evaluate the case and will typically provide their determination within four to six weeks. They will notify both our office and your family about their decision once it's made. If your child gets denied, and we noted in our report that the case was extremely severe, we may choose to appeal. If the appeal is denied, your family has the further right to appeal.
What is the process after I get approved for braces by Medicaid in Colorado?
If approved, you would call our offices to schedule an appointment for braces. Please make sure that your child gets a dental exam and cleaning before the braces appointment. All dental issues such as gum disease and cavities have to be taken care of before braces are put on. At the braces appointment, our orthodontist will discuss your child's orthodontic treatment plan and will answer any of your questions and concerns. We will also go over all the dietary, oral hygiene and home care instructions for braces with you and your child. After the braces are on, you will need to bring your child for regular periodic adjustment appointments which are typically scheduled every 7-12 weeks, depending on the case. As long as you have Medicaid coverage on the day of your appointments, Medicaid will cover the cost of the braces treatment in full. At the end of active orthodontic treatment, your child will be given retainers and will be placed in our retention program. Lifetime retention is required to maintain a healthy bite and beautiful smile.
Where in Colorado are you located?
We have multiple orthodontic offices throughout the state of Colorado including Littleton and Colorado Springs.
We serve the following areas: Denver, Jefferson County (Arvada, Edgewater, Golden, Lakewood, Littleton, Wheat Ridge, Westminster), Adams County (Brighton, Commerce City, Federal heights, Northglenn, Strasburg, Thornton, Bennett), Arapahoe County (Aurora, Centennial, Cherry Hills Village, Englewood, Glendale, Greenwood Village, Sheridan), Douglas County (Highlands Ranch, Lone Tree, Castle Rock, Castle Pines, Acres Green, Parry Park, Roxborough Park, Westcreek, Meridian, Sedalia, Stonegate, Louviers), Teller County (Cripple Creek, Victor, Woodland Park, Green Mountain Falls), El Paso (Colorado Springs, Fountain, Manitou Springs, Calhan, Monument, Palmer Lake, Ramah), Fremont County (Canon City, Florence), Pueblo County (Pueblo), Park County (Fairplay), Morgan (Fort Morgan), Clear Creek County (Idaho Springs).
Call our Colorado office today and schedule your consultation for orthodontic pre-approval by Medicaid (Health First Colorado Insurance, Public Aid, Medical Card).
For more detailed information about Medicaid including Health First Colorado, Public Aid, and Braces with a Medical Card visit Colorado Medicaid Braces.